Accepting the Days of Nothing (2008)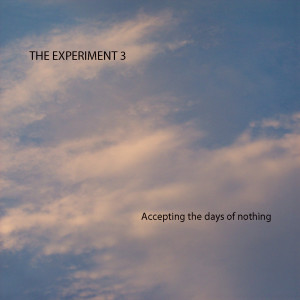 1) The Key To It All (4:01)
2) Wolves At The Door (4:35)
3) Spacewalk (5:12)
4) Should Have Done This A Long Time Ago (1:37)
5) The Air Heavy Here (9:44)
6) Leaving The Internet Forever (3:04)
7) Felt Cold Standing There (3:48)
8) The Codes Are Still Drifting (4:17)
9) Wreckage Of A Ship That Has Long Since Sailed (2:36)
10) A Wishing Hoping Coma (7:18)
NOTES — airy electronic meanderings and ambient experiments in using space. mood music. third in a series. influenced by the works of Brian Eno. created in FL Studio 6. distributed digitally. Cover photo by Eric San Juan (me).
——————————————————————
The Experiment 2 (2007)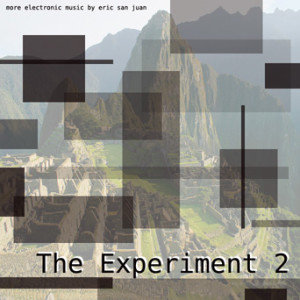 1) I Have Poison In My Liver (2:39)
2) The Merchants Of Filth (2:58)
3) Headaches For The Little Children (5:15)
4) Drift Code Relapse (3:43)
5) This Thing With Noise (3:11)
6) My Electronic World (3:22)
7) A Tone With Pulse And Throb Suggestions (7:19)
8) Marching Orders Have Been Given To The Kings (4:07)
9) They Fired Lasers At My Eyes (2:27)
10) The Sun Rising At Machu Picchu (10:23)
NOTES — Second in the line of "The Experiment" works, which are experiments in figuring out what my software can do. Toying around; playing with stuff that I hope will benefit later projects. Usually "hey, here are some ideas" rather than serious music I'd like people to hear. With The Experiment 2, I was initially aiming for ambient music, but it took a left turn in the making. That effort would later become Accepting the Days of Nothing. The closer, The Sun Rising At Machu Picchu, is a personal favorite.
 ————————————————————————————
The Experiment (2006)

1) The Introduction (1:12)
2) The Beer (3:07)
3) The Jazz (3:10)
4) The Voices (3:17)
5) The Noise (4:37)
6) The Strings (2:45)
7) The Intermission (1:00)
8) The Orchestral (3:06)
9) The Sax (3:38)
10) The Suck (2:10)
11) The Agenda (3:18)
12) The First (2:39)
13) The Outro (1:14)
NOTES — This album is what it's called: an experiment. But it's not experimental music. Got some software that dealt with loops and samples and such, got a bunch of samples, and goofed around for a week or two trying to figure out what it could do. That's all. This is the result. Nothing serious, just attempts to figure out how to assemble songs electronically. I don't even claim it's any good, though I do like a few of the songs (The Noise, The Sax, The Suck, The Agenda). There are some vocals, mostly Indian (Asian Indian) singing I cut up and spliced together. Other songs are just beats and samples. Bits of piano and strings and beats and jazz and whatever. 'The Noise' contains samples of me on guitar. Created in FL Studio 6. Distributed digitally. Cover photo by me.