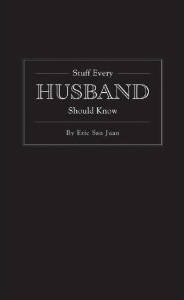 While I enjoy receiving feedback on my work, both good and bad — criticism can be helpful — I don't generally make it a point to seek out reviews. However, some reviews of Stuff Every Husband Should Know have been sent my way, so I thought I'd share them.
Phillyburbs.com called it a "must-have guide" featuring "priceless practical wisdom that all wives hope their husbands possess."
Mom Central called it "the rulebook to the game that husbands have been playing for thousands of years."
A husband and wife duo from the Ledger-Enquirer bickered (playfully) over some of the tips in one chapter.
And a quirky blogger said the book is "the perfect gift for the man new to wed or this upcoming Fathers Day."
My wife would laugh hysterically at those comments, of course. She has to live with me! But it's gratifying to know the initial reception is leaning towards the positive. If you haven't picked it up yet, jump over to my website for more information and purchase links. (And yes, it is available for Kindle.)