You folks should check out some of these books. They're self-published by folks I know, but knowing these folks isn't the point. I wouldn't be plugging them if they sucked. They don't suck. These are interesting, unusual, and memorable books worth checking out.
Brian Spaeth is a visionary and probably also a lunatic. I would not let him date my daughter, but I would let him give a speech at my funeral. He has some books.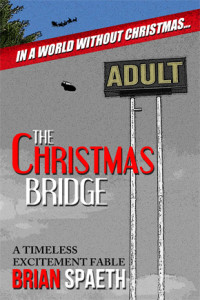 The Christmas Bridge – "It's a timeless excitement fable and that means maybe lessons, and explosions, and emotions, and etc." LOL, WUT? In The Christmas Bridge, Christmas is outlawed. So, "When charismatic life drifter JESI BURNS and one-time actoring icon NICK KEEGE are tasked by Santa Claus himself to build a 200-mile long haven for those who still want some Christmas to happen, people's souls get healed or whatever."
.
.
.
.
——————————-
Prelude to a Super Airplane – This strange and wonderful book contains lines like, "In this moment, before his youngest son was about to die aboard the future of airplane riding, the father was sure the son wished he had the paper, or however that sentence was supposed to be worded." It's awesome.
.
.
.
.
.
——————————-
Stanley Lieber is a multi-talented genius who writes short stories, does music, creates independent comics (including illustrating this story from my first Pitched anthology), and writes books. Books like this one.
1Oct1993 – It's a political commentary science fiction experimental meta essay action adventure war story dream. Yes. And it's available on Kindle or in print. Stanley's writing will sometimes make your head spin — in a good way. Enjoy.
.
.
.
.
.
.
——————————-
Neil Welch isn't just a great guy, he's a darn good writer. I can't recommend his short story collection, Shadow Whispers, enough. Check it out, along with three other of his books.
Shadow Whispers – A slew of short stories packed into a handsome little volume, this will appeal to anyone who likes The Twilight Zone, Ray Bradbury, and good short fiction.
.
.
.
.
.
.
——————————-
Maisie's Cave – A book for young adults that may have some interest from a traditional publisher. "Headstrong and impetuous, Maisie is always leading her friends into trouble. But she didn't bargain for what they would find when they started exploring the cave in Drawstone Bay…"
.
.
.
.
.
.
——————————-
.

Long Shorts – One of these stories is a real tear-jerker about love and loss.
.
.
.
.
.
.
.
——————————-
Dreamhunter – "How does a detective find a kidnap victim who is being held prisoner in a dream?"