Last night, I watched a gigantic clown chew gum and sing "Under Pressure" while forcing an audience member to eat pastries.
It was the greatest.
I'm talking about Puddles of Puddles Pity Party, and if you don't remember the name, you'll probably remember the sight of him from his viral collaboration with Postmodern Jukebox:
Yeah, that guy. Toweringly tall, decked out in black and white garb, and projecting an air of detached sadness as he eases through a pop song with a disturbingly powerful voice. Based on stuff like this and his Sia cover with the same group of quasi-retro hipsters, it would be easy to assume that Puddles is a gimmick, and one with a limited shelf life. One you'd only be able to tolerate for a song or three before the novelty wore off.
Turns out that couldn't be further from the truth.
I didn't really know what to expect going into the show. I figured it would be a series of mildly tongue-in-cheek covers by a guy wearing a clown outfit. That contrast would be the gag. You'd smirk a bit ironically as he went through some popular songs and a few showtunes, and that would be the sum total of it. Wrong. I'd seen a number of other Youtube clips, I knew the guy had a terrific voice, but I didn't expect to be laughing for an hour or so straight, entertained by a mash-up of mediums in a performance that ended up being the best live show I've seen all year.
Though heavy with music throughout, it's not quite accurate to called a Puddles show a concert. Though hilarious throughout, it's not quite accurate to call it a comedy show, either (though that's what the venue I attended called it). The Puddles Pity Party experience mixes Charlie Chaplin-esque physical humor with heavy audience interaction, sight gags, film, mild clown shenanigans, a series of running gags, and of course, lots and lots of amazing music. 'Cause make no mistake, this guy can sing his ass off.
Basically, it's a multimedia assault for the modern age.
Not even joking when I say it was the best live show I've seen all year. I laughed all throughout it, even while loving his fantastic renditions of classic and soon-to-be-classic music. Puddles' devotion to character is remarkable, unshakable and lasting even throughout his fan photo session after the show. He never says a word, his character silent aside from pained grunts and singing. His physical humor is not clownish, though. Instead, it's plucked from classic Vaudeville and silent movies, snatches from the aforementioned Chaplin, Stan Laurel of Laurel and Hardy fame, and an injection of Buster Keaton's sad, somewhat bumbling melancholy. The black and white costume makes a lot more sense in this context.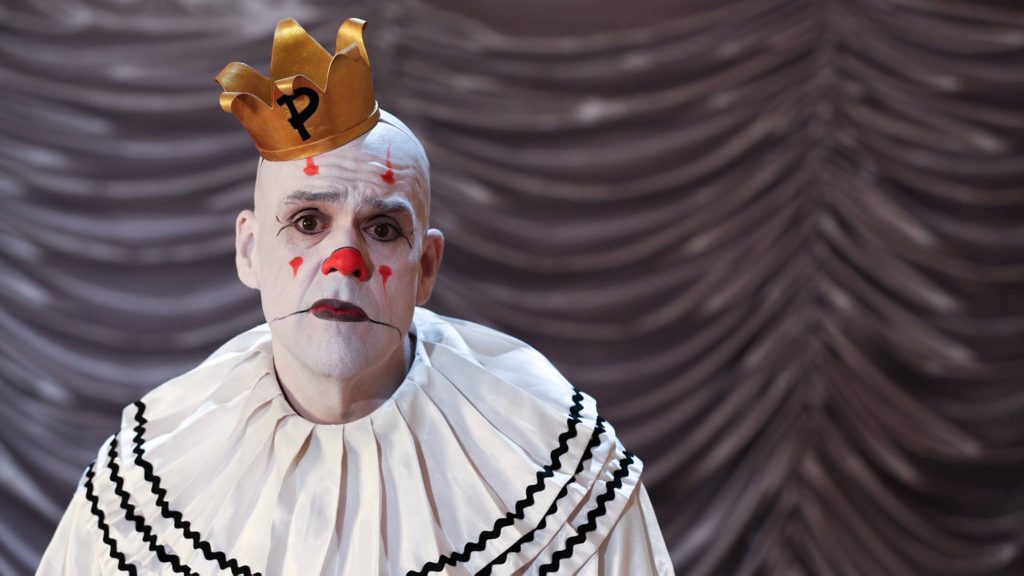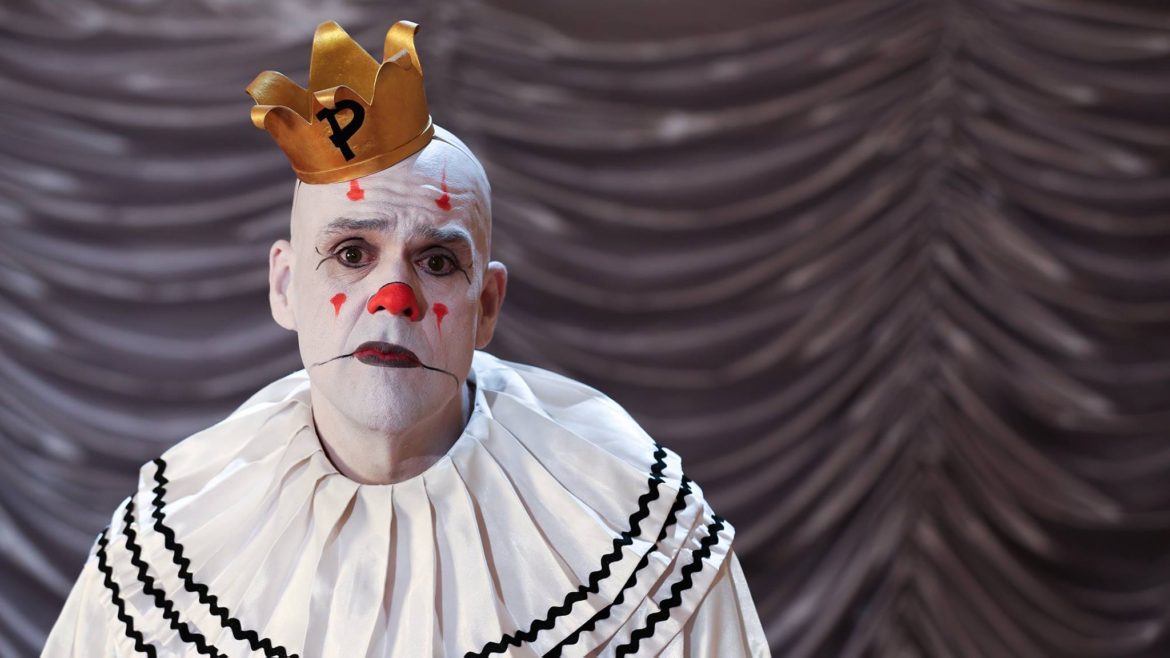 The show features running gags throughout, often built in a way that you don't realize you're seeing a running gag being set up. Never thought I'd find moving a chair across the stage so funny, or gum, or Waterworld.
Lots of hilarious audience interaction, too. If you have a clown phobia, this show is not for you, because chances are good that Puddles will get up close. In fact, more than a half-dozen people got pulled up on stage over the course of the show, each giving Puddles a new opportunity to engage in his delightful patheticness (except perhaps for one audience member who kept trying to be a comedian himself; never a good idea to try and capitalize on your time in the spotlight, it's always embarrassing). He brings all that interaction full circle in the end, making the show feel remarkably intimate despite the crowd of 300 or so of us who were there.
Film is also a big part of the experience. The stage behind him is laced with expertly (and often hilariously) edited film clips that are timed perfectly with his music and antics. Sometimes you're torn between watching him belt out a fantastic rendition of a '70s glam rock tune or watching sight gags play across the screen behind him, clips that provide funny nods to the lyrics as he sings or that contrast his performance. A crying infant will make you laugh – in a heartbroken kind of way.
He did a mash-up where he sang the lyrics to The Who's "Pinball Wizard" to the music of Johnny Cash's "At Folsom Prison." He sang a tear-jerking rendition of "Danny Boy" that was also heartwarming and hilarious thanks to the film that accompanied it. He made a disaster of preparing a cup of coffee for a woman pulled from the audience, set up the night's most absurd running gag with what looked like nothing more than a one-off Dances With Wolves joke, and turned Adele into a rock goddess. And tons more.
The crowd impressed me, too. People from their early 20s to their 70s were there, people from all walks of life, and everyone loved it.
All in all, it's a combination of comedy and concert and theater, and I can't recommend it enough. It ran an hour, maybe hour and a half. Tickets were about $30 a pop and worth every penny.
Puddles Pity Party. If you see him coming around, GO.